Indegenous Bamboo Musical Instruments Workshop Objectives
Who can join in this course?
Music is for everyone. To play, To enjoy, To make. Bamboo is for everyone. So we marry both. We bring you Bamboo Music 101. In a world full of judgements and segregations, Music is a solace where we can all BE ourselves, express ourselves without judgment and enjoy being part of a community.
In Bamboo Music 101, we will be taking a natural indigenous material, Bamboo, commonly found in the Philippines and make musical instruments with it, most commonly used in the Philippines and create music together.
Bamboo has been used to create a variety of instruments including flutes, mouth organs, saxophones, trumpets, drums, xylophones. Using it does not require any special skills, just the soul and your openness to share. We will show you a number of Bamboo Musical instruments, as well as show you how to make some from scratch, and in the end create a Bamboo Musical Ensemble with your co-participants.
This workshop is open to all (YES, non musicians, too) from ages 15 onwards. This is perfect for families, friends and enthusiasts.
You will learn about Bamboo and the History of Bamboo Instruments in the Philippines, How to prepare the Bamboo for making the instruments and actually make your own Bamboo Instrument. The culmination of this workshop will be a Bamboo Concert where you and your batchmates will be headlining.
Ka-WHY-an – Why Bamboo and an Introduction to Bamboo Instruments in the Philippines
Bamboo Properties, Species and Treatment
Different Kinds of Bamboo Instruments
Tools and Materials used for Bamboo Instrument Making
Basics of Bamboo Instrument Making
Bamboo Musical Instrument Hands-On Workshop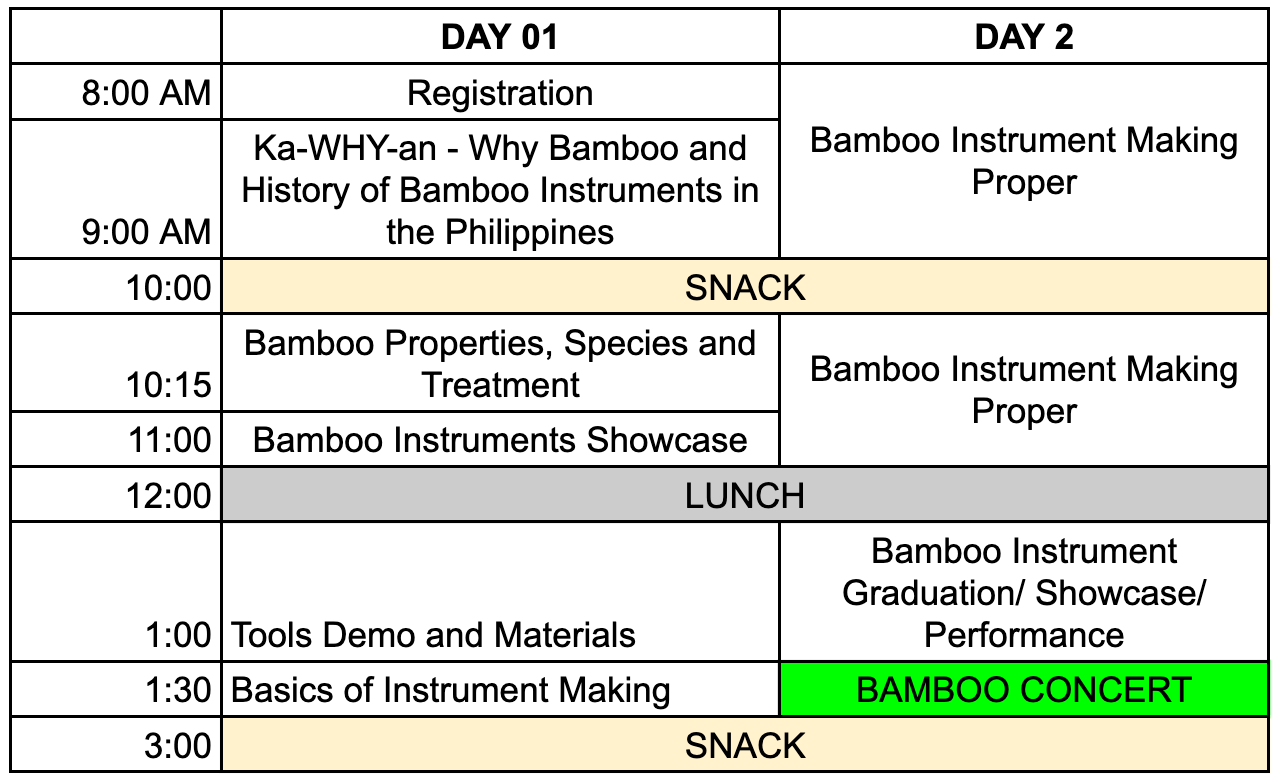 What is included in my Bamboo Music 101 Workshop fee?
A 2-day hands-on and immersive bamboo musical instruments workshop experience
All tools and materials
A bamboo musical instruments workshop, including 1 musical instrument to take home with you
All required transportation between locations during course days
Immersion in natural, scenic surroundings
Pre-arrival check-list and planning information
Hands-on learning about indigenous bamboo musical instruments
A chance to get hands-on with bamboo.
The know-how to start creating your own bamboo musical instruments
Exploration of natural materials that work in harmony with bamboo musical instruments
A supportive and inclusive learning environment
Delicious, healthy meals, including juice, coffee and snacks, throughout the course
To take part in a Bamboo Musical Instrument Ensemble
Connecting with a diverse group of like-minded people
An intimate group size (25 max. participants)
Who can join in this course?
This Bamboo Indegenous Musical Instruments Workshop is for anybody with the LOVE and Interest in Bamboo and on a mission for a sustainable ecosystem. This workshop is open to all (YES, non musicians, too) from ages 15 onwards. This is perfect for families, friends and enthusiasts.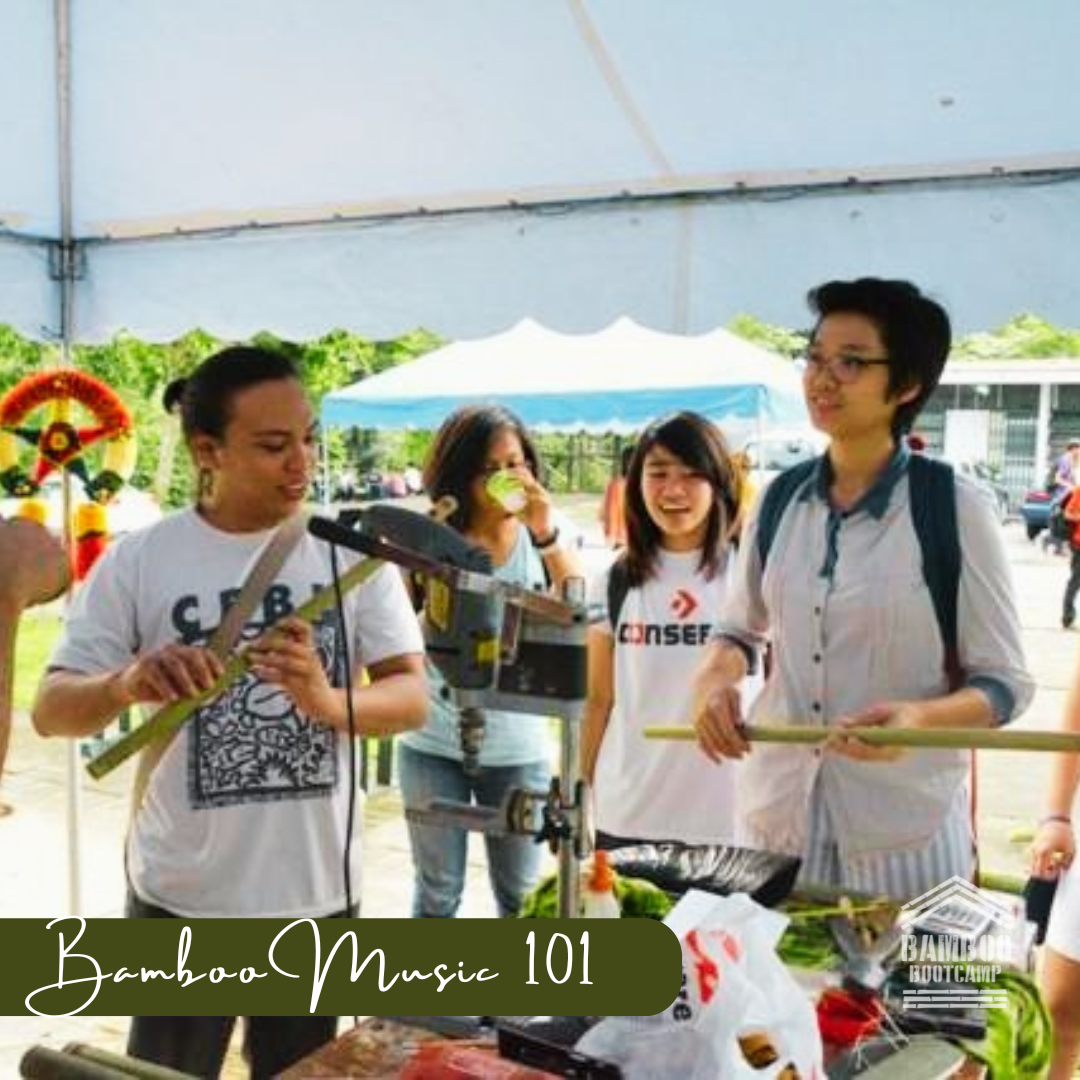 Stud Jader , Main Facilitator
He a professional Bamboo plate tuner, an alumnus of Harmonya: The String Ensemble of UPLB, The Philosophical Society of UPLB, and Bamboo Bootcamp—batch 12. He is also a civil engineer currently taking up MA in Philosophy at UP Diliman.
Zedie Balaccua
A civil engineer who is enamored by architecture and Bamboo Utilization. An alumnus of Bamboo Bootcamp—batch 12. He is a Project Engineer, Site Supervisor, and Orchestra Cellist for a living.
Michael Cedric Bartolome
He works with plants at the Institute of Crop Science, University of the Philippines Los Baños specializing on plant identification and genetic resources conservation and management. He is a co-author of the SEARCA published reference, A Field Guide to the Common Cultivated Crops of the Philippines (Vol. 1).
Photo credits to Kai Tagbo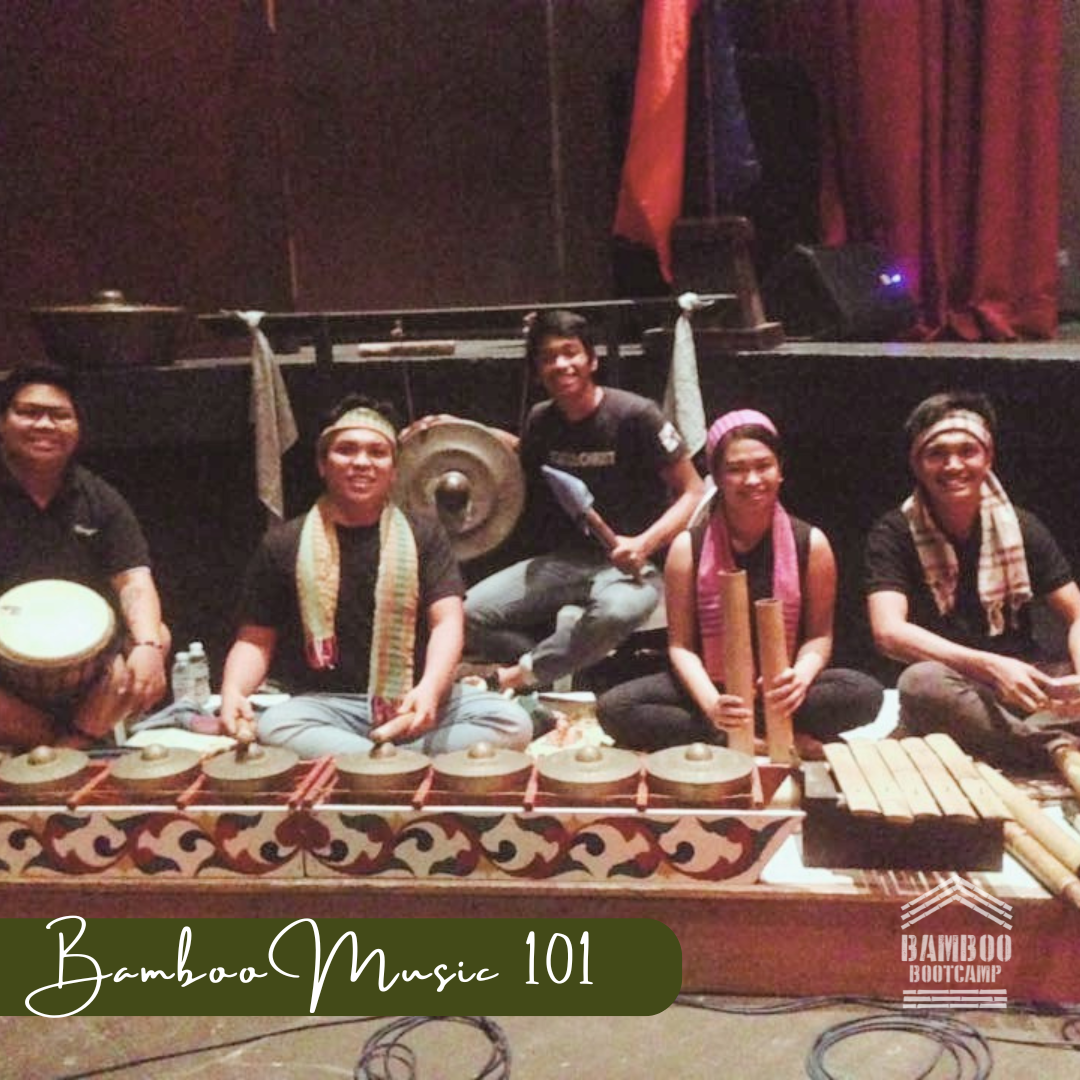 Nov 5-6, 2022

New Sked!!
Location : Marilog District, Davao City
Venue : Hayag Center, Brgy Baganihan
Registration Fee : Php 8500
Inclusions:
Course Fee and Materials
Basic Dorm Type Lodging with clean bathrooms
Basic Meals (3 square and 2 snacks)
An experience of a Lifetime